2021: Outstream vs Instream – Who wins?
In recent years, the ad-tech industry has become increasingly aware of the high effectiveness of Videos ads, and more marketers are choosing video ads as their preferred format for advertising brands or products to the viewer.
Although video ads have become incredibly popular in recent years, the video advertising format has been a part of the advertising industry as far back as 1941, when the first video ad was displayed on a billboard during a baseball game in New York. Since then, video ads have developed tremendously along with technological advances, which allowed marketers to make highly creative ads, but it wasn't until the mid-2000's that video advertising really started to gain serious traction. The real game-changer in marketers' attitude towards video advertising came in 2005, with the launch of YouTube and the widespread adoption of high-speed internet. In that same year, IAB started standardization of video ads which was another step forward in the video ad evolution.
These days, the higher engagement and attention video ads attract from the viewers, are the reason many marketers choose to increase their video advertising budget. This trend can be seen in the numbers presented by 'Statista' which show the rise of online users in the US watching digital video content.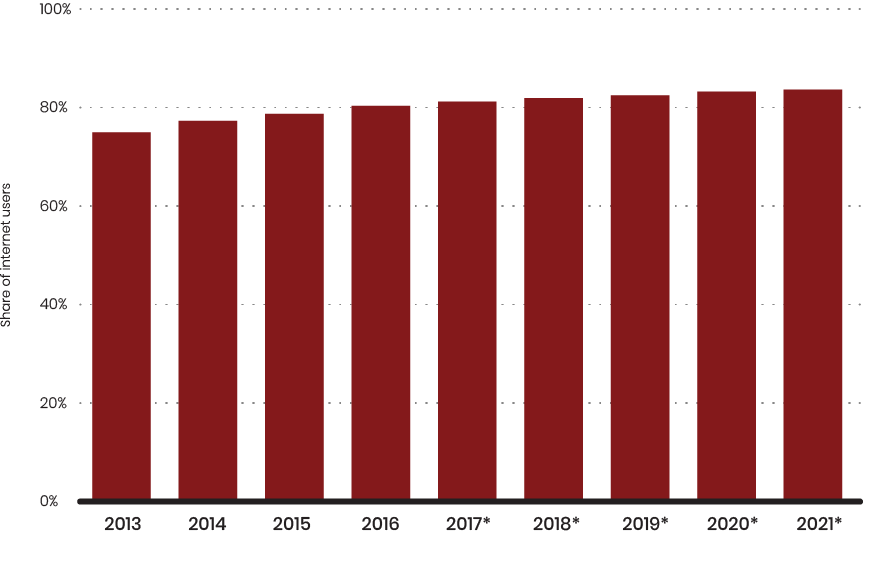 Video ads provide additional insights regarding the amount of time a viewer spends watching the ad, and this is a huge advantage for marketers looking to improve their strategy. In addition, the user has more options to engage with the ads by choosing to play it or click any of the other available video buttons.
Video ads are split into two commonly used categories:
In-Stream  and Out-stream
So what are the main differences between In-Stream and Outstream ads?
In-Stream ads are  video ads that appear within other video content. The ads can be set up to appear as pre-roll, midroll, or post-roll. In-Stream is currently the most popular way for advertisers to display video ads, they can be affected by a user's ad-blocker.
Although the widely used common denominator of the In-Stream ad formats (Linear, non-linear, and companion ads), makes them easy to serve on multiple platforms. There are some downsides to serving In-Stream ads, for example, serving In-Stream ads is limited to channels the advertiser already has content on, in addition, marketers need to consider the relevance of the ad content to the video content displayed to the user in order to preserve a good user experience.
The evolution of video ads led to the creation of another video format called Outstream.
In this format, the video appears in non-video text-based environments, e.g., blogs and news articles. And it is set to autoplay as a user scrolls down the page.
Outstream is sometimes referred to as 'in-read' or 'native video'. The reason for the name 'Out Stream' comes from the fact that the video ad displayed outside video content (AKA Instream).
scroll over the content, and you can click to watch it. Outstream ads are a non-intrusive form of marketing.
So which is the better option?
Both ways of video ad serving have their pros and cons, and sometimes it depends on the specific video content. But to get a clear understanding of the options we have compiled a list with the pros and cons for each format:
SelectMedia's 2021 USA; Instream and Outstream stats:
According to SelectMedia's 2021 USA stats for Instream and Outstream video formats, we find both Instream and Outstream to have similar results in terms of fill rate, viewability and RPM, with a slight advantage for the Instream format.
However, a vast difference can be seen in the completion rate and CPM stats, which show better performance for clients using Instream formats.
In 2021, there's no loser and no clear winner when comparing these two video formats.
Our recommendation is to choose the format that most suits your needs and is the most cost-effective. For example, if your purpose is to reach a vast range of audience types or have high engagement rates – In-Stream might be the right way to go. However, if you have a very specific target audience or you are looking to gain more brand awareness and are less concerned with clickthrough rate, then Outstream could be a great choice for your campaign.
At selectmedia.asia we offer a wide range of video formats for publishers and provide advertisers with direct access to high-quality video, display, and mobile inventory on a global scale with guaranteed quality, viewability, and brand safety from our proprietary Video Guard Technology (VGT).
Selectmedia is a full-stack technology solution that provides a holistic solution for publishers, including Video and CTV services.

SelectMedia works with the largest companies in Asia, and the top advertisers worldwide, allowing marketers to reach the right audience with the right message, across the globe. SelectMedia prides itself on being at the forefront of fighting ad fraud and has attained official certifications from the TAG program – certification seals Against Fraud + Brand Safety, proving leadership in combating the negative impact of​ ad misplacement across the digital advertising supply chain.

In addition, SelectMedia is an official member of the IAB SEA+India and is a part of IAB Europe official list of trusted brands and is officially approved as a TCF vendor, which means all European traffic is scanned for consent, preventing non consensual traffic from ever reaching the advertisers.
With SelectMedia, you will be able to fully monetize your CTV campaigns with the reassurance that your ads are served via top publishers that grant us with the app-ads.txt certification file and insure 100% compliance.